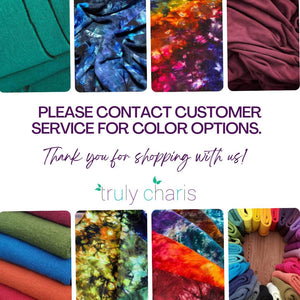 Midweight - Shorties
Shorties are an excellent choice for the summer especially in warmer climates! Since wool is breathable, wool actually keeps baby cooler and more comfortable than waterproof covers while still providing amazing wetness protection.
The individually hand-dyed options come in rich, vibrant colors.
These shorties are made to order and can be customized to your baby's specifications. To request customization, add the Customize Your Woolies listing to the cart with the desired number of inches selected: http://www.trulycharis.com/collections/wool-interlock-diaper-covers/products/customize-my-woolies


To view colors, you can join the Truly Charis B/S/T & Chat on Facebook at www.fb.com/groups/trulycharis. Thank you!
---
We Also Recommend