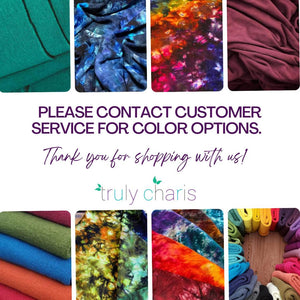 Midweight - Bubbles
Truly Charis Bubbles are made of a lovely wool interlock wool fabric that is soft, stretchy and durable for baby's maximum comfort as they explore the world springing into life around them! Wool protects baby's skin and keeps their skin cool during all of their adventures! It is truly a unique and amazing choice for covering cloth diapers and the best for breath-ability and wetness protection. 
                           Rise      Waist            Hip            Inseam          Age Range          
Extra-Small       16"         12-17"       15-21"          1.75"               3-9 months         
Small                  17"         14-19"       17-24"           2"                    8-22 months          
Medium             18"         15-21"        20-28"          2.25"            20-34 months          
To chat, feel free to join us in the Truly Charis B/S/T & Chat on Facebook at www.fb.com/groups/trulycharis. Thank you!
---
We Also Recommend