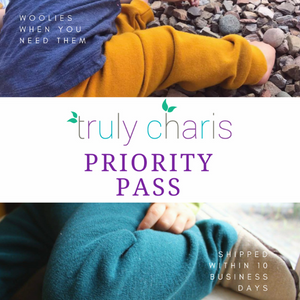 Priority Pass
Tired of wet sheets and looking to TC as your nighttime cloth diapering solution? Want to make sure your woolies arrive before your vacation or big trip? 
Now introducing the Truly Charis Priority Pass! Purchasing this pass will guarantee that your custom Truly Charis woolie will ship within 12 business days or less.
Note: The Pass is valid for one woolie item. If you would like to rush more than one item, please add the appropriate number of Priority Passes to your cart. Please indicate the item/s you are prioritizing in the Special Instructions for Seller box upon checkout. Priority Passes must be purchased at the time of the woolie order. 
** If there are any issues with your order, we will contact you as soon as possible for arrangements.