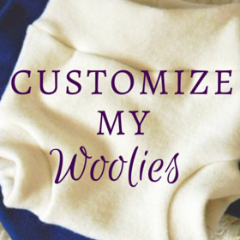 Customize My Woolies
**NOTE: ALL POCKET/SKIRT/TRICOLOR CUSTOMIZATIONS WILL ADD 1-2 WEEKS OF TURNAROUND TO YOUR ORDER**
With Truly Charis, you are able to customize your woolies to best suit your baby's specific measurements for the most comfortable fit!
Simply select the customization you want, select the total number of inches (if customizing measurements and select "-" if not), then click Add To Cart. For half-inch adjustments, please round up to the nearest inch. 
Add each customization separately. If your order contains multiple woolies, type in which woolie the customization applies to in the box to the right.
*NOTE: The Bubbles style woolie measurements cannot be customized in rise/hip/inseam, but waist can be added and they can be patchworked.
TRICOLORS: select 2 band colors in the box from the following options (this list is not exhaustive, other colors may be available): 
- All current seasonal colors