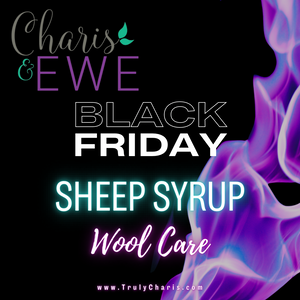 Black Friday Sheep Syrup
Are you lanolin bath challenged when it comes to your woolies?  Maybe you are just starting out, or maybe you ran out of mason jars or..... someone stole your favorite lanolin spoon?!?
Have no fear-- SHEEP SYRUP IS HERE!  Shake, Measure, Mix, Soak-- DONE.
Sheep Syrup is a new, emulsified lanolin product from Charis 'N Ewe, giving you a shortcut to making baths for your woolens.  We've done the work for you, and what you get is the joy of simply measuring out what you need to make your bath.  
INSTRUCTIONS FOR USE: Shake container well. Draw a warm clean water bath and add roughly 2 Teaspoons per pair of longies/shorties (or per 2-3 covers). Mix the syrup into the bath, and add your clean woolens to soak for at least 15 mins (or up to an hour) to lanolize. Always keep like colors together to prevent potential bleeding of hand-dyed items.
THESE PRODUCTS ARE INTENDED FOR USE ON WOOL DIAPER COVERS. Products are manufactured in a facility that also processes wheat, oats, tree nuts (coconut) and milk on shared equipment.  Like all laundry products, keep these out of reach of children & pets.
About Lanolin Production:
Lanolin is what gives wool diaper covers their waterproofing properties. Sheep need to be sheared to keep them comfortable in hot weather and to keep their coats from becoming a tangled mess. The sheared wool is processed to remove the lanolin (a natural wax on the sheep's fleece), which is further refined to become used in skin care, etc; Contrary to some claims, sheep are not killed to produce lanolin or wool.